Internet Scams
"You can buy anything on the internet except common sense."
A small hotel owner in Spain, a German lady, wrote me an email recently, thanking me. She had searched the internet for the name on a suspicious email and came up with this page. I was grateful for her thanks. Alas, she continued on to say that she had emailed the scammer to let him know that his details were on this page . . . . thereby alerting him to change his "name" and to read what's written here in order to be a better scammer. Please don't send scammers to this page. The aim is to prevent scams, not to educate scammers.
AUCKLAND 18 Feb, 2013

Bev and Trevor Oliver exhausted their own savings and borrowed thousands of dollars to pay into an online Ghanaian scam, believing they would had won a lottery and would collect more than 850,000 ($1.3 million). In July, the couple finally conceded they had been duped and declared they would have to sell their $500,000-plus home to pay back their debts. . . . He said he had now accepted there was no lottery win but "Bev still has her hopes".
AUCKLAND 30 Jan, 2011


A Southland woman who thought she was receiving a $71,000 tax refund was actually falling prey to an India-based scam - to the tune of $32,000. The woman, who did not want to be named, received a phone call early this month saying she had overpaid tax, but to get it she needed to transfer money into an account through the Western Union. The first payment, of $290, gradually increased with the promise of a $71,000 refund. . . It was her children who raised suspicion after her daughter overheard her on the phone to one of the scammers . . .
You think I'm making this stuff up, right?
AUCKLAND 7 June, 2009

A widow became the victim of what's thought to be New Zealand's biggest internet dating scam after losing $680,000 in a little over 10 weeks.

She created a profile on match.com on March 12 . . . blah blah blah . . .

The man said he was an American-born geologist who lived in New Zealand but was overseas on business. On 26 March, he told her he was bringing millions of dollars-worth of gemstones back to New Zealand but said the documents verifying them as genuine had been stolen . . . etc etc etc . . .

She sent the payments by Western Union [see below].
After I while I feel my sympathy fading . . .
KINGSTON 29 May, 2009

Americans sent more than $US30 million to this Caribbean island last year to claim winnings in a Jamaican lottery. The trouble is there was no such contest. Scam artists are making Jamaica a new centre for internationally known lottery schemes, aiding a network of violent gangs that authorities say are putting the money into drug and gun trafficking.

Some have lost their life savings - including Ann Mowle, a 72-year-old retired bookkeeper from Monroe, New Jersey, who committed suicide in 2007 after reportedly losing US$248,000 to a Jamaican lottery scam.

A Houston man in his 80s whose wife threatened to divorce him unless he stopped wiring money to Jamaica . . , has lost US$121,000 - nearly all of the couple's savings - and they are now getting by on his wife's meagre salary and his Social Security benefits.
SYDNEY 21 August, 2008

Australians are being ripped off by around $A36 million a year by 'Nigerian scammers' via the internet.

About $A3 million per month is sent from Australia to Nigeria - at least 80 per cent of which was related to fraud. Police said the figure would climb since even more money is sent to other countries as part of the same scams. Nigerian scams are usually conducted via email. The scammers try to persuade the target to send money in the hope that doing so will result in a huge windfall. Queensland police recently contacted 139 people who had sent money to Nigeria and found 135 were victims of fraud.
There are several fraudulent procedures in common use on the internet (and off it) which target merchants of both products and services. We will be expanding this list as time allows. See the Card Processing page for credit card-related fraud. Note that eBay users, both sellers and buyers, are the target of a rampant fraud of all kinds - at much higher levels than eBay is prepared to publicise. There are pages on eBay and elsewhere describing the required precautions.
1. Overpayment, prepayment or advanced fee scam.
Many internet service providers believe they are relatively safe from internet fraud because they do not send out goods and hence although they might lose time they will not actually be out of pocket for hard cash when targetted by scammers. The following scam is usually targeted at sellers of fairly pricey goods, such as cars, motorcycles, jewellery, cameras, mobile phones or computer components, but applies equally to service providers and to the tourist accommodation sector where deposits are required. (See the specific examples below relevant to the tourist accommodation sector.)

Typically, an overpayment scam works like this:

• The seller places an internet advertisement for a car or other item with a highish price tag.

• The seller receives a generous offer for the item, usually via an email.

• The scammer then sends a cheque or, more often, a money order for the item. However, the payment sent is for more than the specified amount.

• The scammer provides some reason for this overpayment and asks that the balance be electronically transferred to a specified bank account or transmitted via Western Union to a third party. For example, he might claim that the extra funds are to pay the fees of an agent who will pick up the goods or to cover shipping costs.

• The seller transfers the amount out of his own funds.

• Later, the seller finds that his bank has dishonoured the cheque or money order sent by the scammer. In some cases, the bank may actually have cleared the funds, but discovers later that it is a forgery or was stolen. Large numbers of forged money orders are in circulation.

The supposed buyers usually originate from west Africa, notably Nigeria, but might be based in Holland, the UK or America. To protect yourself against this sort of scam, never agree to allow a payer to transmit an amount for more than the agreed price where you are expected to reimburse the balance. The scammers give a variety of reasons for the overpayment, but any such request should be treated with the utmost suspicion.

IMPORTANT: it is almost universally believed that once a cheque has CLEARED and the funds are in the recipient's bank account, then the funds are completely secured. This is not true. Clearing a cheque takes only a few days, but for the bank to receive its money from the issuing bank can take weeks. If the bank subsequently finds that the cheque was fraudulent, it will take the money back. The responsibility for loss devolves to the bank only after the transaction is CLOSED. It's up to you to determine when that is.

Here's an example of a fake cheque sent by a Nigerian scammer calling himself Charles Hans Burns in association with G Gibbs of Northern Ireland.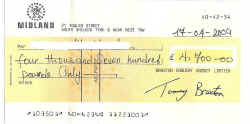 So, what do we see here?

1) The Midland Bank was defunct at the time this cheque was sent, having been bought by HSBC. HOWEVER, cheques issued by absorbed banks are generally good for a couple of years, so that's a clue but not a definitive one.
2) There is no "Braxton Enquiry Agency Ltd" in Tyne and Wear, although there is a business with a very similar name. It is not run by "Tommy Braxton" who would in any case not sign his cheques "Tommy".

3) The scammer purports to be someone with an English name living in the UK but puts a cross bar on the number '7' in the European manner - not definitive, but to be noted.

4) The paper texture indicates a washed cheque. This is an extreme case - usually these crooks work with stolen blank cheques, but in this case they have washed all the black print off and REPRINTED the cheque. However, when you do this kind of thing it's always a smart idea to spell the purported bank's address correctly. It's "South Shields", not "South Shileds", you morons.

Below is a similar but more simple example - the cheque is an obvious photocopy, the paper has been cut along the dotted line rather than torn, the signature is illegible (not accepted by any serious bank), the sender asked for a phone number for the "courier" and then sent a cheque ostensibly for £19,290 in a manila envelope at economy rates. The letter was posted from the UK but there was no return address - return addresses are mandatory in the EU, but the UK Post Office is currently at an extreme low, so this doesn't surprise me. (I asked them to trace a registered letter recently and they couldn't do it . . . ).
Oh, and by the way, "Sono un truffatore" is the Italian for "I'm a crook" - that and the 58p he paid for the postage are my only reward for this little exercise. This scammer's nom de plume is: Michael Leach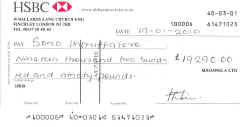 A variant on the advanced fee scam has recently become more sophisticated. This is the:
Mystery shopper scam, secret shopper scam or investigative shopper scam
Normally this is simply a variation on the advanced fee/fake cheque scam. The target replies to an email offering a position as a "secret shopper". The scammer then sends a "package" with quite realistic business evaluation forms, a training assignment etc, and a cheque, sometimes a cashier's cheque, often ranging in value between $2,000 and $4,000. It is emphasized that the project is "confidential" and that the target has only a short time to take up the offer, otherwise it "expires". The assignment is to cash the cheque, use part of the money to pose as a customer at various legitimate businesses and to wire the balance to the scammer's account in order to assess the service of a money transfer company. The cheque bounces after the target wires the money. However, these scammers are now becoming more sophisticated and money is actually deposited in the target's bank account - then clawed back:
AUCKLAND 2 June, 2010


The woman, who is unwilling to be named, was invited by email to become a "mystery shopper" and test Kiwibank's customer service on Friday by depositing $4000 and $5000 into two separate accounts nominated by the fraudster.

Her account was credited with $9000 so she could make the transaction, but this was pulled - like a cheque bouncing - and she is left with the deficit.

The fraudster, who had an Indian accent, called from an untraceable overseas number.
Beware of phone numbers beginning with +44 70xx.
This is an international forwarding service - they are used to lend credibility to fake UK office addresses but can be in any country. A number such as this one +447045734644 or this one 00447031857054 is not in the UK (+44) but forwards to a mobile phone owned by a criminal in Nigeria. They can be set up for free, hence their widespread use by scammers, but YOU pay the very high per minute rate if you call one of these "Find me anywhere" numbers.
Simple Advanced Fee Scam - Rental accommodation scam
A true advanced fee scam simply attempts to induce the victim to pay money for a service that will never be rendered. These scams have become prolific in the on-line accommodation sector. The scammers can write mainly English or French but we have seen one email in Spanish and also now German, so on German-language accommodation web sites often more than 50% of the offers written in English are scams. The emails they send are rarely if ever in German. The example given below is a typical email exchange - the apartment was advertised on ImmoScout24, a reputable Swiss service, typically listing for Basel, Zurich and Geneva. Similar adverts are used for accommodation in Spain and Russia, usually on expat forums such as www.expat.ru. Craigslist is packed with adverts from scammers offering accommodation that does not exist or that belongs to someone else. In addition, genuine listers of accommodation on Craigslist are besieged by scam offers to rent, usually overpayment scams.

Here are two typical examples of accommodation scams:

We have recently (August 2010) found that a very sophisticated version of this scam is being perpetrated via the normally reliable FlipKey / Trip Advisor websites. The owner of the property, purportedly a vacation apartment in Florence, was designated as verified by FlipKey / Trip Advisor. The advertisement text and images were sophisticated but the furnishings as well as details of the apartment in the photographs were not Florentine.
Scam . . . FlipKey / Trip Advisor . . . Scam
The scammer asks for 100% of the cost of the stay plus a damage deposit, to be paid into this bank account. A normal request would be a 30% deposit and a damage deposit upon arrival. It is very rare for scammers to use a genuine bank account - they prefer Western Union or Moneygram.
PETRU CORNELIU PINGICA
Sort Code: 20-29-41
Bank account: 23808912
IBAN: GB71 BARC 2029 4123 8089 12
BIC: BARCGB22
Bank name: Barclays Bank
Bank address: 505/507 Kingsbury Road, London, NW9 9EG

The emails read as follows - note that the property owner's name was Indian, the email came from an incorrectly spelled Spanish name and the bank account belongs to a Romanian name.

Good evening Simon,
First of all, thank you for your email and giving us the chance to assist you. We know you have a choice with the many apartment rental and hotels and we value and appreciate your business. The property is available between 02Oct to 16Oct. Included airport pick-up and luggage transport up to the property.
For the period, between 02(check-in) to 16(check-out) in October 2010 the price is 150€/night x 14nights = 2100€ plus an additional 200€ security deposit. This deposit you will receive back in CASH in your departure day if there are no damages. The rate include taxes, utility bills, AC, SAT TV and internet high speed access. Duomo di Firenze is at 500m far from the apartment. Please take the time to see if our property meet your criteria and we will be happy to assist you with the booking.
I remain at your disposal for any questions.
Kind regards
Luiz

Dear Simon,
I'm sorry for the delay, it's been a very busy week. We can pick you up from the railway station instead airport.

Please take note of the terms and conditions below:
Address: Carrer de Girona, 8, 08010 Barcelona, Spain
Check-In: Oct 02 2010
Check-Out: Oct 16 2010
Offered rate for the stay: 2100€ plus an additional 200€ security deposit. - The rate include taxes, utility bills, AC, SAT TV and internet high speed access.

Please find below our bank details; when done please also send us the receipt so the booking can be confirmed.
I've blocked the apartment for you in the meantime.

Cancellation policy:
No penalties for cancellations till 30 days prior to arrival
10% penalty for cancellations from 29 to 14 days prior to arrival
30% penalty for cancellations from 13 to 7 days prior to arrival
100% penalty for cancellations under 7 days or in case of no show
Thank you for choosing us
Luiz


A very common but much more primitive example is as follows:

• Dear Miss Iderrais,

I am very interested in renting your apartment for one year (probably more). I am male, 28 years old, a middle manager at UBS Bank, with Swiss permanent residence visa. I am quiet, clean and tidy. Would you please give me the contact details for the agent so that I can make an appointment to look at the apartment.

Regards,

Simon Francoforte

Subject: RE: ImmoScout24 - Modulo di contatto (N° di riferimento 1493670)
Date: Wed, 24 Jun 2009 19:52:57 +0200

Good day, [This non-colloquial greeting is a dead giveaway, and an amazingly common one, on scam emails.]

My name is Anne Myriam Iderrais, I am a respected economist and I work for a large company in Liverpool, United Kingdom. [Gosh - someone really important!] I received your email of interest for the rental of my apartment in Mühlegasse 14, 8001 Zürich, listed at 1130 CHF. [This is the address of Cabaret-Nightclub Moulin Rouge.] I want to rent this apartment because I inherited it of my father in 2006 and I never lived there because my mother and my father were divorced and I was raised by my mother to Liverpool, United Kingdom. I tried to sell the apartment but I could not obtain a fair price for him (because of the financial crisis) so I decided together with my mother to rent it to some nice people.
The apartment is exactly like you see it in the pictures, fully furnished, but I have the option of sending all my furniture into storage if you want to bring your own (no extra costs). [Apparently too lazy to find good photos of an empty apartment.]
At this moment I am in Liverpool, but I have made all the arrangements to rent the apartment from here after I decide to whom, an agency will take care of business for me.
I have received a lot of email for this apartment so I removed the announcement from Immoscout , but is is still available . [Immoscout deleted the advert when alerted to the scam.]

Thank you for your interest and I will wait your email !

Have a nice day,
Myriam Iderrais

• Hello again,

Thank you for your prompt response, like I informed you before, the price you shall pay for one month of rent will be 1130 CHF.

*** does that include heating costs? [No reply to this - details, details - scammers are busy, busy, busy.]

The money, I want to receive it monthly to my bank account,

*** no problem - send me your bank details [No reply to this.]

I hope it will be no problem for you. The apartment is ready for you, you will need only to receive the keys to check it, and see if you like it. In order of that, as I told you in my previous email, I have found a way for us to complete the deal safely and fast, in this way you will receive the Keys in less than 2 days, if you move fast as well.
The solution is provided by a company called " Ammo-This Century 21 Rentals " from United Kingdom, [What's that 'Ammo' there - has Myriam been looking at this page???] they handles rentals for people who are unable to reslove them alone (for people who have work contracts abroad, etc. ) I will pay for their services.
I have received a lot of e-mail so I would like to know more details about you... your age,

*** 28

what's your occupation,

*** bank middle manager (UBS)

[All of this information was provided in the previous email but scammers are busy people and don't have time to read replies.]

also you can send me a picture with you,

*** attached - this is me playing soccer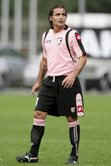 this just to know us better, it is very important for me to know who will live in my apartment and how long...

*** only me for minimum one year

I think you can understand me... And finaly, I don't solicit deposit month, so I would like to know on how many months can you pay the rent in advance. [Probing to see how much can be extracted.]

*** one month at the start of the month.

Regards,

Simon


• Hello, [No name - these scammers characteristically have great difficulty with first and last names - indeed, with western names in general.]

Ok, I have to inform you the steps about how this service works and how we can make it happen:
1 - To start this transaction I will need to know your full shipping name and address to proceed with this deal.
2 - I will go to the Century 21 Rentals Office, I leave them the Keys and I make all the arrangements for the delivery.
3 - They will send you in your e-mail a delivery notification to let you know they have the Keys and the papers in their custody.
4 - At this point you will have to transfer the advance you say you can pay for the apartment(1 month of rent) to the Century 21 Agent assigned to handle our transaction, this is the policy of an abroad rental company, they must have a warranty from the potential tenant before starting the delivery.
5 - You have to send the informations about the money deposit to Century 21. They will verify the payment informations and if everything is ok, the Agent will come to show you the apartment.
6 - When the Agent arrives there, he will call you to meet him and to go and visit the apartment with him. ['Century 21' exists but plays absolutely no role in this scam.]
- If you accept to rent the apartment, you sign all the papers with him and the transaction is finished.
- If you don't accept to rent my apartment, the Agent will give your money back in the same day, you won't lose anything. [Heh heh!]

I look forward to hear from you soon !

Thank you,

Anne


• OK, good:

Shipping name and address are:

Simon Francaforte [Anne - or is it Myriam? - doesn't notice and wouldn't care that Simon's family name has changed from Francoforte to Francaforte.]
Rotbuchstrasse 28
CH-8006 Zürich
Switzerland
This is the fake information form from Ammo-This Century 21 Rentals aimed at inducing the scammee to send money via Western Union. It was accompanied by a detailed image of a passport in the name of Peter Erick Shaw (UK). This was either a stolen passport or an image sent by a previous scammee - NEVER SEND IMAGES OF YOUR PASSPORT TO ANYONE. (A scan of the UK passport of Abigail Bennington of Hobart has also been used in this scam.) The form to the left (click to enlarge) is full of nonsense - streets in Liverpool attributed to Birmingham, street names mispelled, bad grammar.

Other names used on variants of this scam email:



Abigail Bennington
Gail Bennings
Alanna Willette
Anne Myriam Iderrais
Aurelia Rossi
Philippia Vuylsteke
Shaw Peter Erick
Dahlia Edain Hosannah
George Button
Marine Elodie Biarnes
Sandra Berkman
James Huggan
Sophie Ottenat
Roger Miles
Victor Jacobs
Nadica Aline Kovacevic
Julia Potridge
Anital Williams
Jensen Gold
Brenda Berry
Stina Nilsson
Deborah Walker
Maria Schust
Julie Williams
Lizette Brenes
Mirella Folkson
Jones Morgan
Bianca Crush
Alisha Kid
Doris Miller
Kevin Carsten
Bret Slater


Starting in July 2009, we have received evidence that these accommodation scammers are using fake escrow sites of frightening sophistication:

http://www.bgs.uk.pn/ BGS Logistics

http://www.bgs.uk.tp has been used in the past. They are hoping to be conflated with the well-known Brinks BGS Secure Logistics.

Do not send money via escrow accounts, especially if they have untraceable .uk.pn domains or similar. (.pn is Pitcairn but .uk.pn is a free subdomain name with no mandatory public whois record.) There are very few legit escrow systems on the internet - the bulk of them a scam sites. The contact details on this site include +4470 redirect phone numbers and fake addresses. The Liverpool address, Greenbank Road 57, is a hospital.

There are now over 10,000 escrow scam websites on the internet, many of them using a limited number of (very good) site layouts. You can find a growing list of them here:

DO NOT, DO NOT, DO NOT send money to internet escrow companies.
2. Shipped goods scam.
All merchants are aware that they should be sure of being paid before they ship goods. However, many brazen scamsters make use of the fact that an item sent via certain popular couriers such as UPS cannot be recalled once sent.

* The scammer pays by cheque.

* The cheque clears.

* The goods are shipped by UPS as requested and the shipping confirmation is transmitted to the buyer.

* The buyer then blocks the cheque.

These scammers are outright thieves whose aim is to take delivery of the goods for resale later. They often make no effort to disguise their identity and address details but work on the basis that the cost and chances of success of legal action across national borders will discourage the merchant from pursuing legal redress. One of our UK customers lost a £750 book to a woman in Seattle in exactly this way.

A related scam is where the goods are sent by post without calling for confirmation of receipt via the postal service. The recipient simply states that the goods were never received and blocks payment. Payments via PayPal are typically involved and buyers in France are frequently mentioned in this context. Indeed, it seems that many buyers regard lack of a confirmation request as an invitation to steal the goods. Refer also to our credit card payment page - even when receipt of goods is confirmed, according to credit card company rules, the spouse of the recipient, as card owner, is not responsible for the payment if the card does not belong to the spouse or other family member who signed to confirm receipt of the goods. Is that clear? Mr Smith's card is used for the purchase. Mrs Smith, his wife, signs to say the goods arrived (universally accepted by courier services and the post office). Mr Smith blocks payment - he wins, you lose.
3. Fax (pay per call) Fraud
This scam is made possible by the existence of pay per call phone numbers where the owner of the number receives a payment per minute from the phone company which in turn charges this amount plus its own fees to the person who makes the call. Many anti-fraud websites say that this type of scam is an "urban myth" but that's not correct. This is a service provided by tax-payer subsidised and, until recently, government-owned TeleCom companies around the world for the benefit of the telephone sex industry. Charming.

Typically, the merchant receives a request for detailed information about products or services and the prices, or is sent a form to fill out to receive a free service from the sender. A response by fax is requested. The recipient's fax machine is adjusted to receive incoming faxes at a very slow rate and/or the form is doctored with elaborate detail to make it slow to transmit. The sender then has to pay the often high per minute charges for transmitting the fax. This money goes to the owner of the number.

Beware of faxes, letters or e-mails asking you for detailed information about your products or services and providing only a fax number for you to respond to.

This scam is particularly targeted at large hotels because faxing confirmations is standard practice in the travel industry. A large hotel is likely to place a thick pile of responses into a fax machine and not to notice that some of them are taking a long time to transmit. This will be much more obvious if you are sending out a single fax so it is important to know how to cancel a transmission that has already begun.
Server owners, read this.
Most spam is sent out from zombie PCs, but scam email needs to be read and replied to, so it should be sent with a correct return path so as not to trigger spam filters. Free services can be used but they have alarms that are tripped by large numbers of emails going out. So scammers resort to this simple ruse:

From: billrichsecoy@aol.com
X-MB-Message-Type: User
X-Mailer: AOL Webmail 41421-STANDARD
X-Spam-Flag: NO

Hi,

We visited your website and find your hosting services is better than our present host.

We would like to transfer our domai n to yours and shall apprecaite your creating a trial account of your email management for us to test with as we shall get hooked on to your server in the next 48hrs all things being equal.

Our domain: danfish.co.il

Sincerely

Bill Richmond

So what do we see here?
1) someone called Bill Richmond is webmaster of a site written in Hebrew.
2) Bill Richmond's English is bad for someone called Bill Richmond.
3) Bill Richmond's email address is not under the site domain.
Well, you could simply ignore it or you could contact the site owner for confirmation. A very large amount of spam can be sent out in a short time. Aside from the cost of the bandwidth, this will for sure get your IP blacklisted. Don't let these little things slip past.
Handy hints on how to detect scammer emails:
real-life examples from the tourist accommodation sector
Most of this will seem very obvious but read it carefully anyway
- Lagos is full of internet millionaires.

Tourists - click this link for useful information for you about pickpockets in Italy and elsewhere.



- DANGER: Yahoo (or Hotmail or Gmail) email address. In Examples 2 and 3, totally unrelated to the sender's name.

- Email written in capital letters.

- English name but style and spelling typical of someone not familiar with standard written English. The style will often be non-idiomatic, and pompous and/or peremptory.

- Although "Shultz" does exist as a family name, this is presumably an attempt at "Schultz".

- Self-introduction with "prestigious" title ("Dr") and often a triple-barrelled name. These scammers will often show confusion about which of these three names is the family name.

- Often a religious reference, "Christian delegates", to enhance credibility.

- Wants to make an immediate reservation without any questions at all.

- Typical non-specific form letter - "your city", "your hotel".

- The request is often totally inappropriate to the accommodation offered by the recipient - asking for rooms when apartments are offered etc.

- A reputable travel agency is located at 125 Holloway Road, Islington, London N7 8LT. They have been there since 1988 and have never heard of Andy Shultz or "Living SPRING WORLDWIDE".

Example 1

From: Dr Donald Strong <tuk2donaldstrong_64@yahoo.com>

MY NAME IS DR DONALD STRONG OF DOOREGO AGENCY, LONDON.
I WANT TO MAKE A RESERVATION FOR A GROUP OF CHRISTIAN DELEGATES COMING FOR A SEMINAR/CONFERENCE IN YOUR CITY FROM 1OTH OF NOVEMBER TO 25TH OF NOVEMBER. 2006. GET BACK TO ME VIA EMAIL IF THE DESIRED DATES ARE AVAILABLE.
REGARDS.
DONALD STRONG

---

Example 2

From: "Dr Andy Shultz" <shandez7@yahoo.com>

Dear Sir,

I am Dr Andy Shultz of THE LIVING SPRING WORLDWIDE in United Kingdom .I need to book for reservation in your hotel for our delegates from London coming for a conference on the 15th of Oct. to 22th of Oct. 2006. The delegates are 6 in number. Please get back to me if the dates mentioned above are free, so that we can book reservations immediately.

Thank you and have a nice day.
Kind Regards, Dr Andy Shultz.
Living SPRING WORLDWIDE, 125 Holloway Road Islington, London N7, 8LT

---

Example 3

From: idkisa kcathy <tyranus_church@yahoo.com>

Dear Sir/Madam,

I intend stay at your hotel from 21 Sept. 2006 up to 15 Oct. 2006. We a double room with two beds. Please let us know if you still have unbooked roomes and how much you need for the stated time.

Hope to hear from you.

Regrads,

Robert William Funnel


---

- self-important references to "the finance department" who are incredibly anxious to send you lots of money.
As per the finance department, all arrengements are completed only waiting to send it on your address in xxxxxxxxx.

The financial department wants to release the payment.

---



- self-important reference to being abroad




- he thinks he has snagged a sucker, and so decides to double his money by asking for an additional apartment
Dear xxxxxx,

I am sory for the delay, but it was because I have been outside my country.

---

I am sending the payment in full and I would like to know if you can get a second appartment of the reasonable money. I had olready instructed the payment to be sent to you and am to confirm the release to you before next week.

Regards,

Robert W F

---



- Someone named Robert William Funnell lives on a plot in Kampala? Please!

- Testing shows the phone number to be fake but the fax real (notice the difference in the number of digits).
Dear xxxxxx,

My address is : Lubaga division, Bakuli, plot 5, Kampala. P.O.BOX 21518 Kampala - Uganda Tel:256 712296414 Fax:256 41 235763.

Regards,

Robert William Funnell

---

- Mr Funnell moves in high circles. "mister if trade and industry" means "Minister of Trade and Industry.

- strange that Funnell has forgotten how to spell his own name and may also have confused his family name with his first name.
I have been very busy moving with the mister if trade and industry for some trade matters.

The details about the payment is : The total money sent is $7,096.38 USD Issued in your names:XXXX XXXXX.

Please confirm receipt when it reach your office in xxxxxxxxx. And in turn send us the BOOKING CONFIRMATION.

Regards,
Funnel
So what was the aim of this crook? It was in fact a variant on the overpayment scam. He sent a fake cashiers cheque for $7,098.38 (yes, an honest guy - he included the cents) which was the charge for his entire stay rather than the 30% deposit requested. A few days later and before the cheque would have bounced, he cancelled, due to the hospitalisation of "My Dear Wife" with incurable cancer. Being a generous guy, he asked for only 60% rather than 70% back, to be sent by

- DANGER Western Union.

Never send payment via Western Union to someone you do not know personally. Unlike a bank transfer, the recipient remains anonymous and you will not be able to identify him or even his country if there is a problem.

DO NOT, DO NOT, DO NOT send money by Western Union

- no block or chargeback is possible. Once it's gone, it's gone.

For a BBC report on Western Union's totally inadequate response to billion
pound annual scam losses via its services, read here.

There is ABSOLUTELY no contact information provided
on the Western Union website for non-customer, in progress scam reports.
They don't want to know about it.
With scams, you're the one who loses money - they make money.

---

"We are sending the card in trust to you because you are a corporate body that cannot defraud us. So you are to charge a total of 1,680Euros +4,000=4,680Euros.So you are to keep 1,680Euros as deposit for your services and wire 4,000Euros, through western union, to our transport consultant. The balance of your bill will be paid cash on arrival.

ASHLEY ROLLAND,
PROGRAMME DIRECTOR"

Ashley Rolland's arithmetic leaves something to be desired but his crooked intent is clear.

Or was that Rolland Ashley? We'll never know - it varied from one email to the next.

---

Good day,

Thanks for your reply and assistance so far .I am glad to tell you that we have concluded payment with the delegates.

However,a Certified Bank Cheque of 6,500 Euros was earlier made out by the sponsors sponsoring the delegates trip,for a Villa whose services were not up to the standard of what your home is offering to us now. Which was meant for the accommodation, provision for travelling and other necessary arrangement.

I have now been instructed to send you the cheque payment which will cover the cost of your accommodation and all other necessary travelling arrangement for the delegates.
Moreover, an arrangement was made with a prepaid car hiring firm who will supply the delegates with the cars they will use during their stay as well as fees for their tourist tax etc

So you are required to deduct the cost of your services which is 1,200 Euros and send the balance to the prepaid car hiring agent whose information will be forwarded to you as soon as possible.

So confirm this and provide me with your payment information if you are willing to proceed with the rentals for the delegates with the info below:
(1) YOUR FULL NAME
(2) ADDRESS
(3) PHONE NUMBER, for payment to be delivered to you via courier.

Please remember that the integrity of our firm is involved, so this business requires prompt response. I also hope the stay of my delegates will be made comfortable.

Kind Regards,
Edgar Wehle

---

This sample is specific to the rare books and rare maps trade. The English is somewhat better than usual but not good enough for someone named "David Stone" or "David Strong", and the email is still addressed ingratiatingly and non-specifically to "Dear Friend":

Dear Friend,

Thanks for your email, I'm o.k with the price. I want you to get the item shipped to me in Canada, my friend is owing some little funds in US, He'll send you the US cheque/Money Order however, this cheque will be in excess, so when it clears your bank, ship me the item and transfer the difference to me, you should deduct the transfer charges from the balance. If you're o.k with these arrangement get back to me with your payable name, physical address (No P.O Box), and phone #, so that he can send you the cheque asap via special trackable mail.

I am giving you these arrangement because I can't send you Canada cheque anymore, I went to my bank this morning, they said it may not clear in US Bank, and if it will clear, it depends on financial institutes and it may take up to a month for it to clear, they said the best thing I can do to send you canada cheque is to open a domiciliary account in US Dollars, I can't open such account just because I want to order a book, therefore, I want you to understand my arrangement and get back to me today.

I am looking forward to read your email.

Thank You,
David Stone.

---

Here's one from Ivory Coast (international dialing code 225). Notice that he retains the é in Tél even in the English version, indicating that he's more conversant with French, an official language in Ivory Coast. He's left "Je" in there too. He means "strike" by the capitalised word "BURDEN" - that's a bad translation of "en grève" - on strike. "I name myself" = "je m'appelle" etc.

It's very odd that these crooks use such rare, not to say ridiculous, names since it makes it easy to search the internet for denunciations similar to the one you're reading now.

Hello
I name myself KONAN FRANCK and at the time of my weddings with my wife I would like to make a reservation of room within your establishment . My stay will be carried out over one 10 days limiting duration as from 18/11/06 at 28/11/06. I would like to know in order to confirm my reservation if you have a terminal of remote taking away because I would like to balance by bank card. I wish to make a pre total payment after reception of the tariff. Also I have service important to ask you Je would like to pay the plane tickets but it is that the terminal of taking away for the credit cards of the travel agency is currently breakdown and we are in BURDEN thus I cannot go to the bank to take money for the expenses of the plane tickets. I would like to then solicit you so that you to help me for this service which will consist in outputting on the credit card that I will send to you, in more of the amount of the reservation, the sum of 4000 euros which will use to me for the purchase of the plane tickets. Then made me a mandate of this amount via WESTERN UNION. I wish of any heart that you render this service to me so that I arrive at your establishment because we are already ready. I would also like as a thanks for the service which you will render to me, that you also output for you the sum of 1000 euros like commission. I am thus in waiting of the total invoice so that I send my credit card for the complete balance to you.
Mr KONAN FRANCK
Tél.:+225 08195757
THANK YOU

Buongiorno
Nomino KONAN FRANCK ed in occasione delle mie cerimonie nuziali con mia moglie vorrei fare una prenotazione di camera nel vostro stabilimento . il mio soggiorno si effettuerà su una durata limite di 10 giorni a partire dal 18/11/06 al 28/11/06. Vorrei sapere per confermare la mia prenotazione se disporte di un terminale di prelievo a distanza poichè vorrei saldare per carta bancaria. Desidero fare un pre pagamento totale dopo ricezione della tariffa. Quindi ho servizio che importa a chiedervi. io voglia pagare i biglietti d'aereo ma il fatto é che il terminale di prelievo per le carte di credito dell'agenzia di viaggio à guasto attualmente e siamo in SCIOPERO dunque io non possono renderlo alla banca per prendere denaro per le spese dei biglietti d'aereo. Vorrei allora sollecitarli affinchè voi aiutarlo per questo servizio che consisterà nel erogare sulla carta di credito che vi invierà, oltre all'importo della prenotazione, la somma di 4000 euro che mi serviranno all'acquisto dei biglietti d'aereo. In seguito fatte io un mandato di quest'importo via WESTERN UNION. Auspico di qualsiasi cuore che mi rendiate questo servizio affinchè arrivi al vostro stabilimento poichè siamo già pronti. Vorrei anche come ringraziamento per il servizio che mi renderete, che erogavate anche per voi la somma di 1000 euro come commissione. Sono dunque in attesa della fattura totale affinchè vi invii la mia carta di credit per il pagamento completo.
Sig. KONAN FRANCK
Tèl.:+225 08195757

Bonjour,
Je me nomme KONAN FRANCK et á l'occasion de mes noces avec ma femme je voudrais faire une réservation de chambre au sein de votre etablissement .Mon séjour s'effectuera sur une durée limite de 10 jours á partir du 18/11/06 au 28/11/06. J'aimerais savoir afin de confirmer ma réservation si vous disposez d'un terminal de prélèvement á distance car je voudrais solder par carte bancaire. Je désire faire un pré paiement total après réception des tarifs. Aussi j'ai service important á vous demander .Je voudrais payer les billets d'avion mais il se trouve que le terminal de prélèvement pour les cartes de crédit de l'agence de voyage est panne actuellement et nous sommes en GREVE donc je ne peux me rendre á la banque pour prendre de l'argent pour les frais des billets d'avion. Je voudrais alors vous solliciter afin que vous me rendiez ce service qui consistera á débiter sur la carte de crédit que je vous enverrai, en plus du montant de la réservation, la somme de 4000 euros qui vont me servir á l'achat des billets d'avion. Ensuite faites moi un mandat de ce montant via WESTERN UNION. Je souhaite de tout coeur que vous me rendiez ce service afin que j'arrive á votre ETABLISSEMENT car nous sommes déjá prêts. Je voudrais aussi en guise de remerciement pour le service que vous allez me rendre, que vous débitiez aussi pour vous la somme de 1000 euros comme commission. Je suis donc dans l'attente de la facture totale afin que je vous envoie ma carte de credit pour le solde complet.
Mr KONAN FRANCK
Tél.:+225 08195757

Here's another one from the Ivory Coast. The French is reasonable and the request quite modest. Nevertheless, it's an advance fee scam using stolen card details and Western Union. The inducement is a fat commission:

Bonjour Monsieur, Madame

Je suis Monsieur Marc Pivonet Responsable du Centre de formation ( Football Formation ) en abrége F.F. Nous sommes, basés en Cote D'Ivoire

Après notre championnat je voudrais offrir des vacances de relaxation de rêves à mon Equipe. Et je me tourne vers votre local pour une reservation de 3 chambre simple ( avec deux lits dans chaque chambre ) dans la periode du 29/01/2007 au 08 /02/2007

Je voudrais solder par carte de crédit en mode de pre-paiement (a l'avance de mon arrivée ). Acceptez vous les cartes de credits ( Visa , Master ) Possedez vous un terminal de prelevement a distance pour carte de credit ?

Cependant nous avons des petits soucis financiers. Je voudrais que vous nous aider a régler l'agence de voyage où nous avons pour habitude de reserver nos billets d'avions pour les voyages car celle ci a un problème avec son terminal de carte de credit depuis 3 jours et nous demande de regler a la dernière minutes par argent liquide etant donné que nous avons transférés nos fonds liquides en travel check ( manque de cash ) il nous est impossible de payer la somme de nos billets étant doné que moi même je suis hors du pays et de plus mon etablissement financier n'est pas réprésenté où je suis actuellement. Je voudrais que vous prélevriez sur ma carte de crédit le montant des billet (5000€ ) et vous expedierez cette somme via western union en côte d'ivoire au nom du responsable de l'agence de voyage qui n'attends que cette somme pour nous confirmer notre voyage

Et donc je vous enverrai ma carte de crédit avec l'autorisation de prélèvement et les copies de ma carte bancaire sur laquelle vous allez charger le montant des billets de 5000€ et votre commission de 1000€ afin de de garantir le paiement

Veuillez me faire parvenir le devis de ma réservation : chambre + 5000€ billets d'avion + 1000€ commission

Je suis en attente de votre confirmation

Marc Pivonet

Tel : 00225 01 10 32 75

As a side-note to this scam - if you run a small hotel, Bed and Breakfast or agriturismo and receive a request from west Africa for confirmation for availability of accommodation, don't send it until you receive full payment by bank transfer. These confirmations are used by illegal immigrants to obtain tourist visas to enter your country. They will never show up at your hotel.


Some of these idiots have to be mentally retarded - like Derrick (or should that be Derek?)

Dear Friend.

Due to your effort, sincerity, courage and trust worthiness you showed at the course of the U.K Online Lotto winning cheque shipment to your location, I want to compensate you and show my gratitude to you with the sum of $1,800,000 USD (One Million Eight Hundred Thousand United States Dollars) I have authorized the finance house where I deposited the money to issue you international certified bank draft cashable at your bank.

My dear winner, I will like you to contact the CEO in charge of the finance house for the collection of this international certify bank draft. The name of the Person with your Cheque is MR. DAVID EKE

COMPENSATION AND FINANCE HOUSE HEAD OFFICE
CONTACT AGENT: MR. DAVID EKE
EMAIL: davidekesec@hotmail.com

To avoid unnecessary delays and complications, please quote your

1. Full Name……………………….
2. Residential Address………………………
3. Phone Number……………………………..
4. Sex: ..............................................................
5. Age...............................................................
6. Occupation........................................................
7. Nationality...................................................................
8. Present Country...................................................................

At the moment, I am very busy in Sydney because of the investment projects which myself and my new partner Mr. Hilton of CTL Express Courier Company is having at hand. Finally, remember that I have forwarded instruction to MR. DAVID EKE at the finance house on your behalf to send the bank draft to you as soon as you contact him without delay.

Please I will like you to accept this token with good faith as this is from the bottom of my heart. Thanks and God bless you and your family. Hope to hear from you soon.

My sincere advice to you as a Christian is that you should endeavor to pay your tithe to a bible believing church when you get the money because I noticed it as a fiduciary agent that you were skeptical about your winnings when you were been ask by the U.K lotto Agency Inc to file out a claim for your prize. And now the current policy of the Lotto organizer is that if an emerged winner fails to claim up his/her winning cheque, it's now mandatory that this fund can be remitted or forfeited to the fiduciary agent in charge of this winners file.

However, I want you to contact him immediately as soon as you receive this information because he is leaving for CYPRUS by the end of this month and this might cost a delay for you to receive this draft.

Yours Sincerely,
Barr. Derrick Smith.


But not Dr Charles Kola - he has a PhD

Swift Transfer Notification

We write to inform you that we have been finding it difficult to communicate with you on phone having sent you numerous letters without response. Your given Telephone number could not connect may be because of some alterations on the said number. Could you please as a matter of urgency reconfirm the followings

1] Full Bank details:

2] Contact Address:

3] Direct Phone and Fax lines:

4] Amount you are expecting in your account:

The above required information is to enable us to remit directly your entire sum and the accrued interest of 2.5Million into your Bank account as we do not have your Bank's Swift Code to affect the transfer as instructed by Nigerian Government. Make the corrections and forward to our Bank to credit your account. NOTE that we do not have enough time and to that effect, you are adviced to revert ASAP with the aforementioned information as directed.

We will credit your account upon the receipt and confirmation of your Transaction details and for your best interest we advise you to direct your attention to this Central Bank of Nigeria. All correspondence regarding this transaction should be directed to Dr Charles Kola, Director, Foreign Reserve Escrow Account Officer Central Bank of Nigeria

Note that this message is urgent and should be treated on dispatch because of the valid date on the transfer instruction.

Thanks for your anticipated co-operation to help us serve you better.

Yours sincerely

Dr Charles Kola,
Director,
Foreign Reserve Escrow Account Officer
Central Bank of Nigeria

---

The Scam of Scams

ICPC NIGERIA (Anti-Fraud Unit)
......we fight against fraud, funds delay and impersonation.
Head Office: Plot 802, Constitution Avenue
Zone A9 Central Area
P. M.B 535, Garki Abuja
TEL: +234 80 20596701

ATTN,


Dear Sir/Madam,

LETTER OF COMPENSATION/SETTLEMENT.

This letter will definately be amazing to you because of it's realistic value. Sorry for the inconveniences that was rendered to you in your line of Inheritance Payment transaction with some impersonators some while ago.

I know that this letter will hit you by surprise, but firstly I will like to introduce myself; I am (Mr. Hannatu Raji) the Legal chairman of "ICPC", (Nigeria's Anti-Fraud Unit).

On the 1st of October 2000, the President of The Federal Republic of Nigeria (Chief Olusegun Obasanjo) introduced a Commission named the "ICPC", (Nigeria's Anti-Fraud Unit) which is duly registered under the United Nations (U.N.O). This particular Commission was initiated to detect fraud/funds delay/impersonation of Government Officials. Secondly, we are mandated by the US Government to Settle foreign debts/fraud victims/Un-paid beneficiaries to satisfactory in other to maintain peace in the world at large and also to create a good relationship with the international bodies.

Presently, we are being paid by the American government inother to avert beneficiary funds delays/fraud here in Nigeria.

So far, we have settled the likes of (Mrs. Debbie Hargrove, Mr. Micheal Wagner etc).

You are being contacted by this office today because your Case File (A) is the very first File on our Settlement Files Cabinet. From our Intelligent investigations and Probing processes we discovered that you are a victim of fraud/funds delay.

The "ICPC", is faithfully under my governance as the Legal Chairman of the great Commission and to this Authority I took an oath of allegiance to settle all fraud victims peacefully.

This Memorandum is to notify you that you will be settled by the Nigerian Government from our initial Deposit Account. You will be settled with the actual amount which you lost in your previous transaction, including your Inheritance Funds.

Your settlement will be actualized within 3working days after your response to this Official Letter.

For further clearification/investigation kindly send the below informations to us immediately:

1. Your residential address.
2. Mobile and fax number (for regular official contact).
3. Your inheritance funds value.
4. Amount which you have lost previously.

These above-mentioned informations will officially enable us to carry out our verification processes and after that your compensation sum/Inheritance Funds will be Electronically wired into your designated Bank account.

Your immediate compliance to this will expedite actions on your Payment because here in this office, we have alot of listed victims to be settled.

Officially Signed,

Mr. Hannatu Raji.
Chairman ICPC Nigeria.
TEL: +234 80 20596701

AND ANOTHER ONE

Reply-To: <dept29@w.cn>
From: "Nigerian Police Force"<joe@fortrex.ca>
Subject: Re: Fund Recovery and Crime Penalty

POLICE SERVICE COMMISSION
Office of The Permanent Secretary
8th Floor Federal Secretariate, Phase 1, Shehu Shagari Way.
Abuja- Nigeria.

P.M.B. 5188 P.25105/17
Email: onovooffice@policeoracle.com 24th August, 2010
Tel: 234-1-8886100

The Inspector-General of Police
Nigeria Police Force
Force headquarters
Luis Edet House, Abuja.

Fund Recovery and Crime Penalty

You will recall that on January 2008 till date, you have been receiving email from people claiming to lure you into business relationship and other parties which writes to scam and defraud you to send money via Western Union and also attempt MoneyGram.

The Service Force was, on June 2009 Launch a newly Dragon Squad to fight against Cyber crime. Based on serious complaint from foreigner, which we have been working to place these criminals into fire-to-fire matching, your names and email have been sort from (1). Western Union senders to Nigeria. (2) From the email address list of the scammers. (3) Telephone bugging of the criminals.

On the Interrogatory interview with the Criminal named James Bola by birth, you have sent lots of money to him and he cannot be sure, on how much he have received from you with different names such as; Prof. Charles Soludo, Mr. Tunde Lemo and several other names.

You are therefore, required to communicate and confide in us, to enable us recover and return your money to you. Moreover, we will refer you to the genuine paying bank, which will make your payment with ease and safe. Your direct telephone / Fax numbers is needed including your home address and amount you have spent to these scammers, so that we can work on your favor and recover your fund.

We are waiting for your response.

Garba Buwai, OON, mni.
Permanent Secretary/ Secretary to the Commission.